Exploring Suffolk can be great fun and following a visit to University of Suffolk to speak to year 2 tourism students I met Jennifer Wilson who seems to love Suffolk as much as I do! She has written this blog which is a great read and so wonderful to get someone elses view on what exploring Suffolk has mean't to them. I'm sure you will enjoy it! Happy reading!!
An American Exploring Suffolk County
(Written by Jennifer Wilson, Tourism Management 2nd Year Student, University of Suffolk)
I moved to Ipswich in September 2019 from Chicago after being accepted at the University of Suffolk. Time for a career change and my boyfriend is here in Ipswich. I had visited Ipswich numerous times since meeting the boyfriend in 2015, but we had never visited towns other than Framlingham (it is the home of Ed Sheeran after all!!) and Felixstowe (where the boyfriend works).
When Covid-19 hit and we went into lockdown, I was obsessed with the thought of a drive.  Never so much had I wanted the freedom of a car.  When we were finally able to leave the house, we started taking Sunday drives around the county, just for something to do.  As my dad would say "to blow the stink load off."  Those drives ended up being so much more than just something to do.  I had no clue how pretty Suffolk County is, with its charming towns and villages, the rolling green landscapes and the river and ocean views.  I learned a lot about my new county while exploring Suffolk, as well as learning a lot about the boyfriend!
Without question, my favourite town (to date) is Aldeburgh.  The charming and picturesque town centre along with its gorgeous stony beach …  a great day trip destination.  During a warm Saturday afternoon visit, there was something so comforting laying on the warm rocks enjoying the sun, looking out to sea, and listening to the sounds.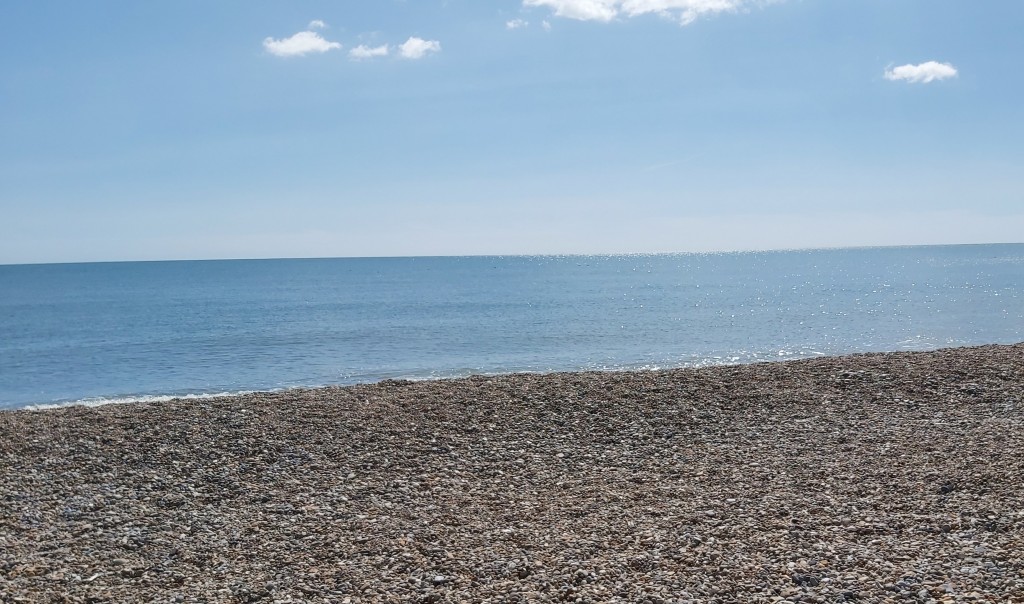 But a second visit on a cold, rainy and overcast day, walking along the beach was just as thought-provoking, merely in a different way. This beat-up boat on the beach leads me to dream up all sorts of adventures experienced by its crew.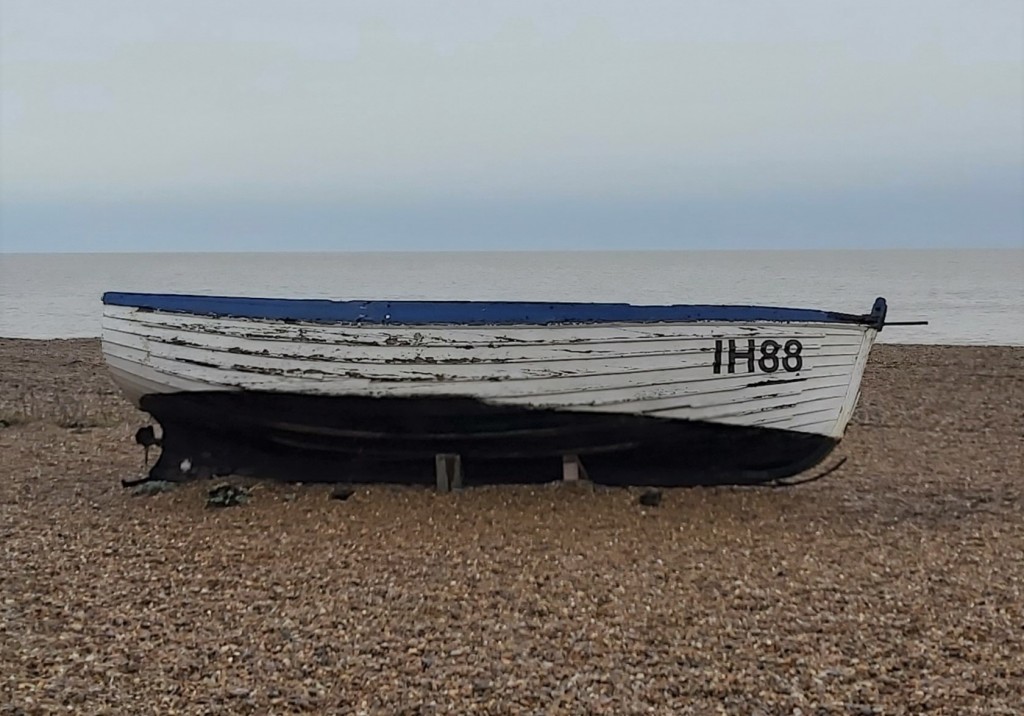 I have not been able to enjoy the famous fish and chips of Aldeburgh. I tried but the line was too long for the boyfriend. So, depending on when you go, be prepared to wait.
I have also learned about the military history of Suffolk County. Outside Parham Airfield, near the A12, the boyfriend tells me about the US military bases in the area.  As we are driving, he points out a row of trees that are shorter than the neighbouring trees.  And he explains that we are at the site of a World War II plane crash, that took out the original trees. It has been 70+ years and you can see the difference in the height of those trees.  As the boyfriend is relating the story and history of the US military in the area during WWII, I feel such appreciation to all the soldiers.  A thank you to the boyfriend, I have loved the history lessons.  Learning about the service of my country while here in Suffolk County, along with English history … what an unexpected experience.
And lastly, while not discovered on a weekend drive, Ipswich is a great Suffolk town to visit!  I live in the city centre neighbourhood, very close to Christchurch Park. For the last year, I take walks exploring my area. My favourite is a loop around and through the park.  The architecture of the houses around the park is gorgeous.  And the park …  it is fantastic with gardens, trails, birds, ducks, geese, swans, ponds, and sporting facilities. Plenty of room for picnics, catch, football, playing with dogs, etc.  I read that the park is 82 acres.  And do not miss a tour of the Tudor Christchurch Mansion.  Ipswich is so lucky to have such a gem.  The mansion also houses an art gallery, tea-room and museum!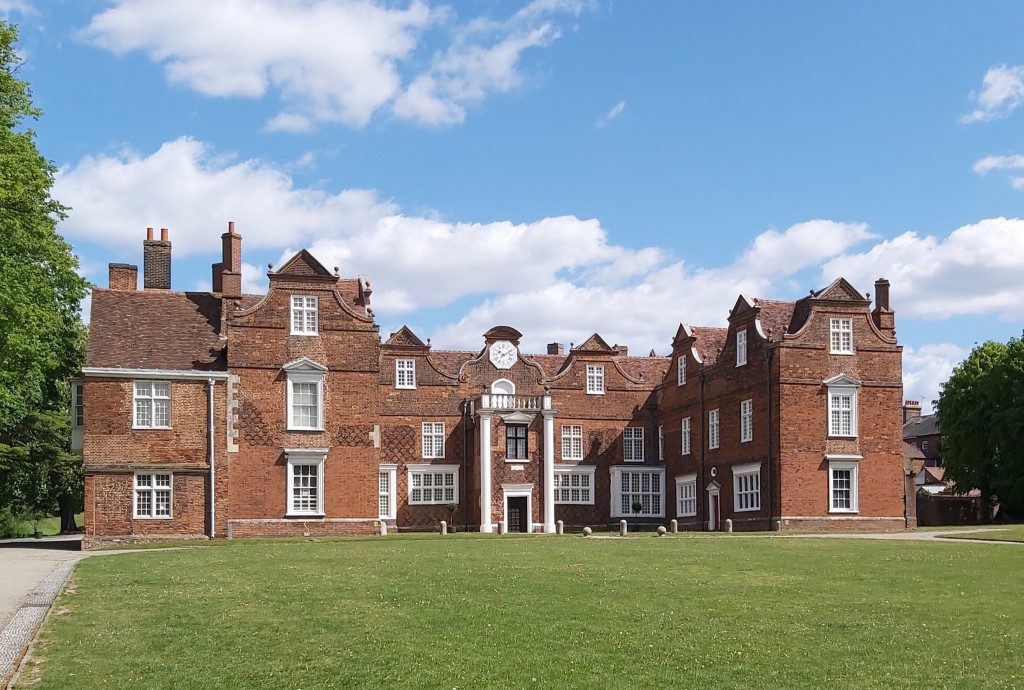 This is an entrance on the west side of the park … I think it is so inviting to explore all that might lay behind it!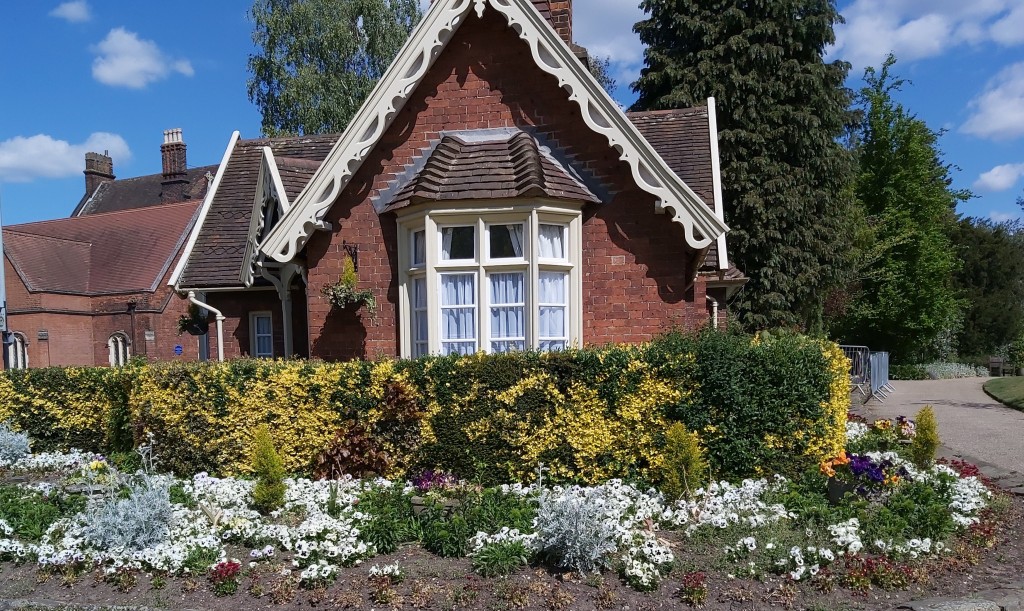 When I made the decision to move to Ipswich, I knew adventures were to come, but I never expected driving excursions exploring Suffolk County during Covid-19 to be something so remarkable and memorable. Coming from Chicago, and its unique urban city landscape, the landscapes, towns, and views of Suffolk County have made an impression on me that I will never forget.  I honestly never expected the connection I would feel to this lovely county. With the lifting of lockdown, and being back at University, the Sunday drives came to an end.  Writing this blog makes me miss them immensely.  I think the drives need to be resurrected as soon as allowed!
Useful Information
To plan your own day out in Aldeburgh more details can be found on The Suffolk Coast website here
These websites also have more information to plan your visits Parham Airfield Museum and Christchurch Park
Jennifer travelled around exploring Suffolk when covid lockdown restrictions eased in 2020. We are currenly in Lockdown no 3 so please #stayhome and #staysafe but make the most of the time by planning your own way to explore Suffolk when it is safe to do so.
Links to some other blogs you may like
Norfolk and Suffolk Aviation Museum
An Afternoon in Christchurch Park looking for Mabel!